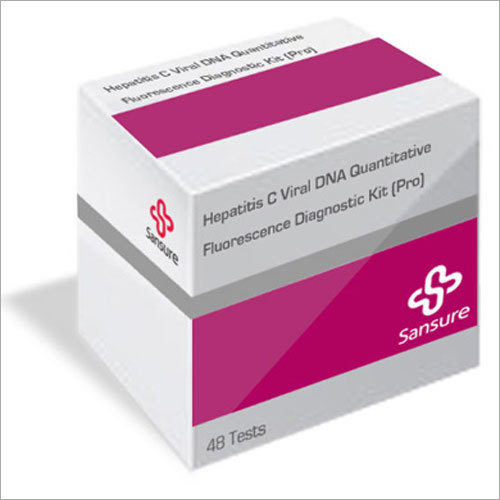 Hepatitis C Viral Test Kit
Product Description
Hepatitis C Viral Kit (Pro)
Descriptions
This diagnostic kit is an in vitro nucleic acid amplification test for the quantification of Human Hepatitis C Virus (HCV) RNA in human serum or plasma. It is intended for use as an aid in diagnosing an HCV infection and observing drug efficacy.
Key Features
The diagnostic kit uses magnetic bead technology to extract HCV-RNA in clinical serum or plasma. By applying real-time fluorescence quantitative PCR technology, this test utilizes a pair of specific primers which are designed to target at a conserved sequence of HCV-RNA, a specific fluorescence probe, accompanied with PCR mix,to achieve quantitative detection of HCV RNA through fluorescent signal changes.
The PCR detection system uses an internal control to monitor the presence of PCR inhibitors in test specimens by detecting whether the internal control is normal or not, in order to avoid a false negative result.
The PCR detection system uses ROX reference dye to eliminate variations existing among different tubes and facilitate the instrument's automatic analysis of the ratio between reported fluorescence and the reference fluorescence (ROX), achieving moreaccurate quantification.
Application
It can be used for accurate and high- sensitivity diagnosis of HCV infection as to raise awareness for timely treatment and transmission prevention.
It can serve as the reliable basis to assess the stage of HCV infection and eligibility for treatment. As well as the clinical medication guidance to monitor viral load and disease progression for antiviral treatment.
It can provide modern moleclar laboratories with the most advanced combination of turn-around time and throughput with 48/96 samples (Natch CS/Natch S) in 3.5 hours.
It provides the patients with chronic HCV infections with an affordable, accessible and sustainable alternative to monitor virological response during therapy as to guide clinical medication.
Contact Us
P-2A-084, Princeton Estate, Dlf City Phase-V, Gurugram, Haryana, 122003, India
Phone :+918037261893