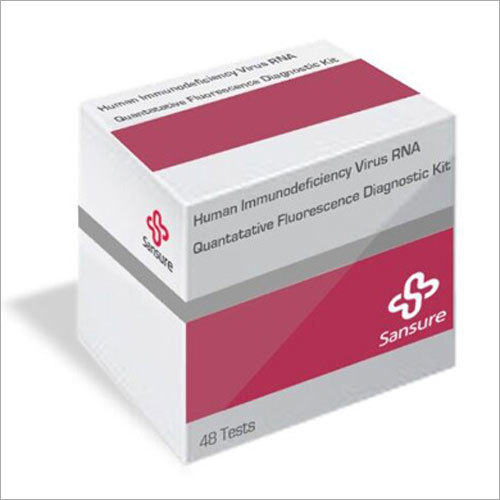 Human Immunodeficiency Virus Diagnostic Kit
Product Description
Human Immunodeficiency Virus Kit ( Type 1)
Descriptions
This diagnostic kit is an in vitro nucleic acid amplification test for the quantification of Human Immunodeficiency Virus Type 1(HIV-1) RNA in human serum or plasma. It is intended for use as an aid in diagnosing an HIV-1 infection, observing drug efficacy and evaluating prognosis.
It can not be used as a screening test to determine the presence of HIV-1 in blood or blood products, nor can it be used to confirm an HIV-1 infection.
Key Features
The diagnostic kit uses magnetic bead technology to extract HIV-1 RNA from clinical serum or plasma. By applying real-time fluorescence quantitative PCR technology, this test utilizes a pair of specific primers (PCR) which are designed to target at a conserved sequence of HIV-1 RNA, a specific fluorescence probe, accompanied with PCR mix,to achieve quantitative detection of HIV-1 RNA through fluorescent signal changes.
The PCR detection system uses an internal positive control to monitor the presence of PCR inhibitors in test specimens by detecting whether the internal control is normal or not in order to avoid a false PCR negative result.
The PCR detection system uses ROX reference dye to eliminate variations occurring in specimen adding and existing among different tubes, as well as to facilitate the instrument's automatic analysis of the ratio between reported fluorescence and the internal reference fluorescence (ROX), achieving more accurate quantification.
Application
It can be used for accurate and high-sensitivity diagnosis of HIV infection as to enable people with HIV to know their status and obtain HIV prevention, treatment and care services.
Contact Us
P-2A-084, Princeton Estate, Dlf City Phase-V, Gurugram, Haryana, 122003, India
Phone :+918037261893